Packaging and recycling
Packaging has a place, it protects our food and keeps it fresher and safe for longer. We want to keep plastics and packaging out of the oceans by using less and making our products easy to recycle. Find out what we're doing to make a difference.
How we've made a difference
Our milk bottle tops are a shade lighter, making it easier for recycle machines to sort them.
Our cooked meat packaging is made with single material, making it easier to recycle and saving 163 tonnes of plastic from landfill.
In 2017, we introduced new, corrugated cardboard pizza discs preventing 200 tonnes of polystyrene boards going to landfill per year.
670k packets of cherry and baby plum tomatoes have been moved into cardboard saving 68 tonnes of plastic per year.
Our mushrooms don't come in black packaging anymore so they can be easily recycled.
Our tissue boxes are fully made from FSC paper, without plastic so they can be recycled.
Help the environment with these easy tips
Remember to take reusable bags when you go shopping
Rinse your packaging, this removes any residue to make sure it can be recycled
Use your green Co-op compostable carrier bag for food waste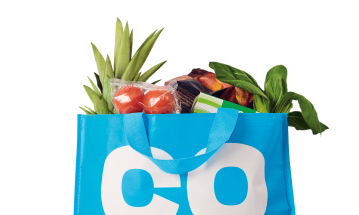 Our story so far
We've always been at the forefront of removing hidden plastic and unnecessary packaging, moving from 46% of our products being easy to recycle to 100%. Since 2018 we have removed 4467 tonnes of plastic from our own brand products and packaging. Our reliance on virgin or 'new' plastic has been greatly reduced and we now use over 30% recycled content across our own-brand plastic packaging.