Ways of working
7 inclusive meeting guidelines
Guidelines to help people collaborate effectively and inclusively.
The way we collaborate has changed.
With a lot of meetings now online, it can be harder for people to contribute effectively. This can mean some voices are not heard.
We've created these guidelines to help people collaborate effectively and inclusively. We want everyone to be able to contribute in a way they feel comfortable.
We think these guidelines will encourage more:
voices to be heard
inclusive discussions
And as a result, Co-op will:
become aware of problems earlier
save money, as problems can be fixed earlier
create more inclusive products and services
open up our products and services to more people
Download a PDF of these inclusive meeting guidelines.
1. Give everyone the opportunity to contribute
Ask people if they want to contribute.
Allow people to contribute anonymously or in smaller groups.
Check if people can access the tools you're using, explain how to use them and offer an alternative if necessary.
Use visible timers and allow thinking time.
Use captions and transcripts where possible.
Consider how people could contribute outside of the meeting, in their own time.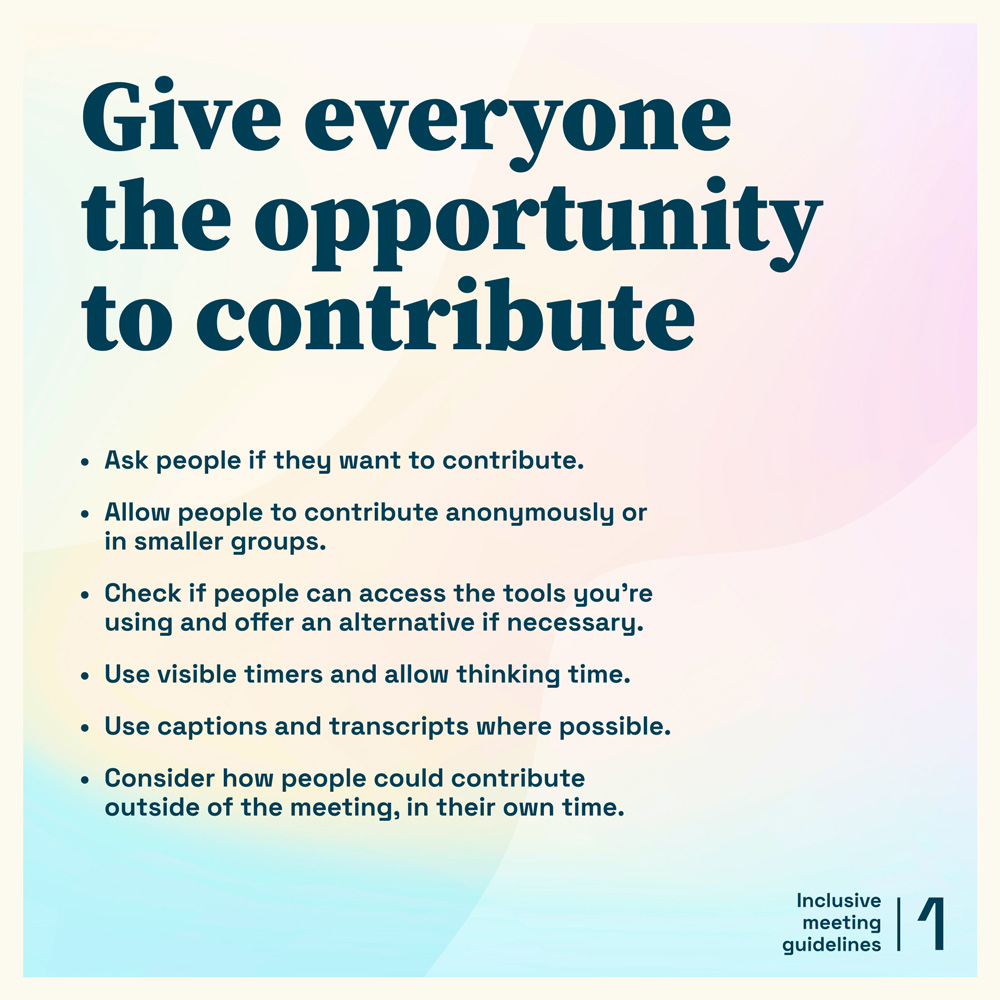 2. Set clear expectations, early
Send out an agenda in advance.
Clearly state the purpose of the meeting and the outcome you want to achieve.
Give a running order, include approximate times.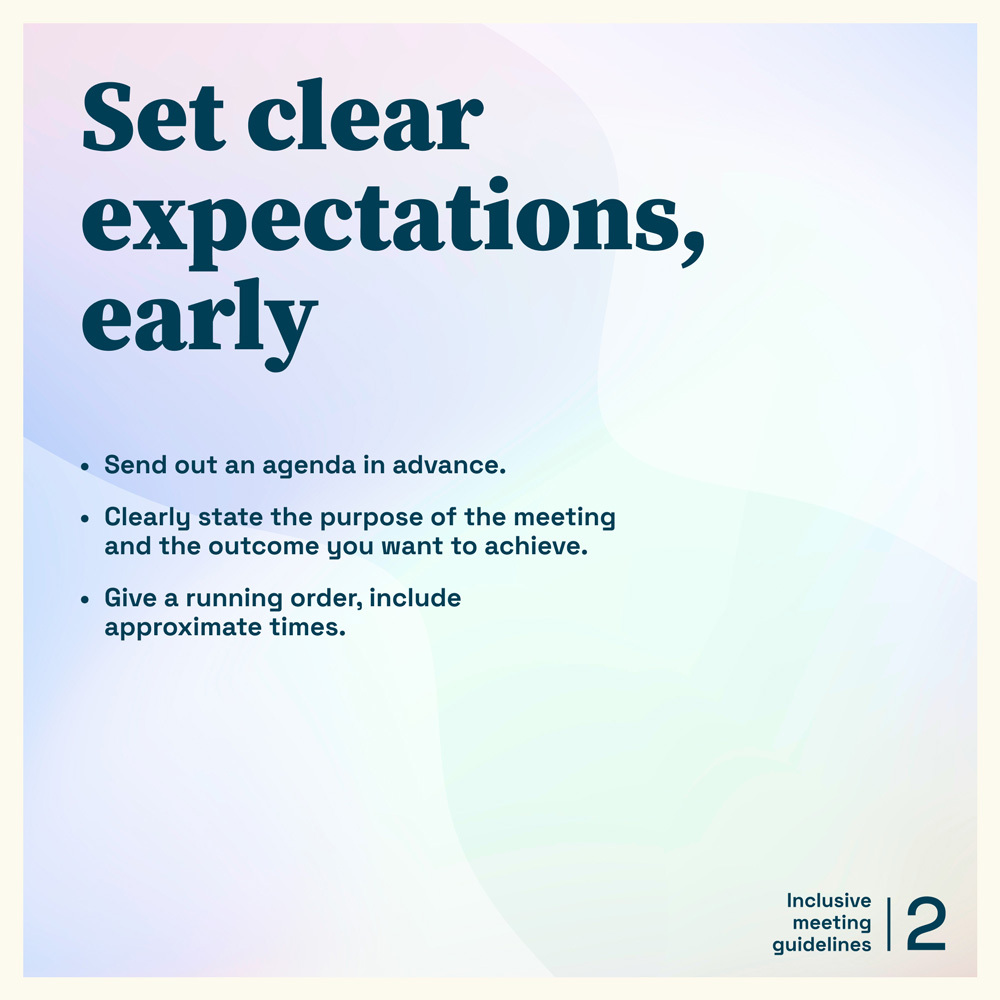 3. Give context: do not assume any prior knowledge
Reiterate any information that someone would need to know to be able to contribute.
Give regular recaps. Consider taking notes as you go so you can easily refer back.
Be mindful of late joiners and the context they might lack.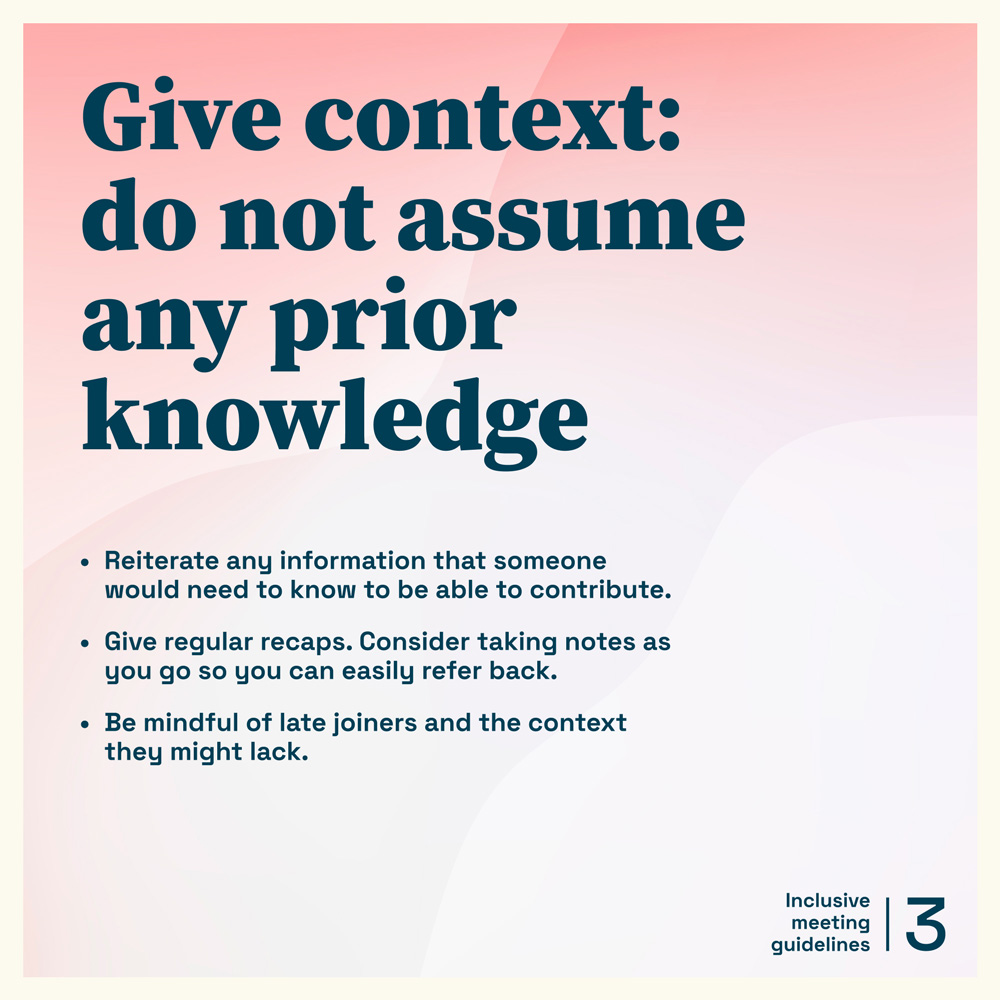 4. Use clear language
Do not use acronyms without explaining what they mean.
Use plain English.
Be mindful of people who are new to the organisation or team. If you use jargon, explain what you mean.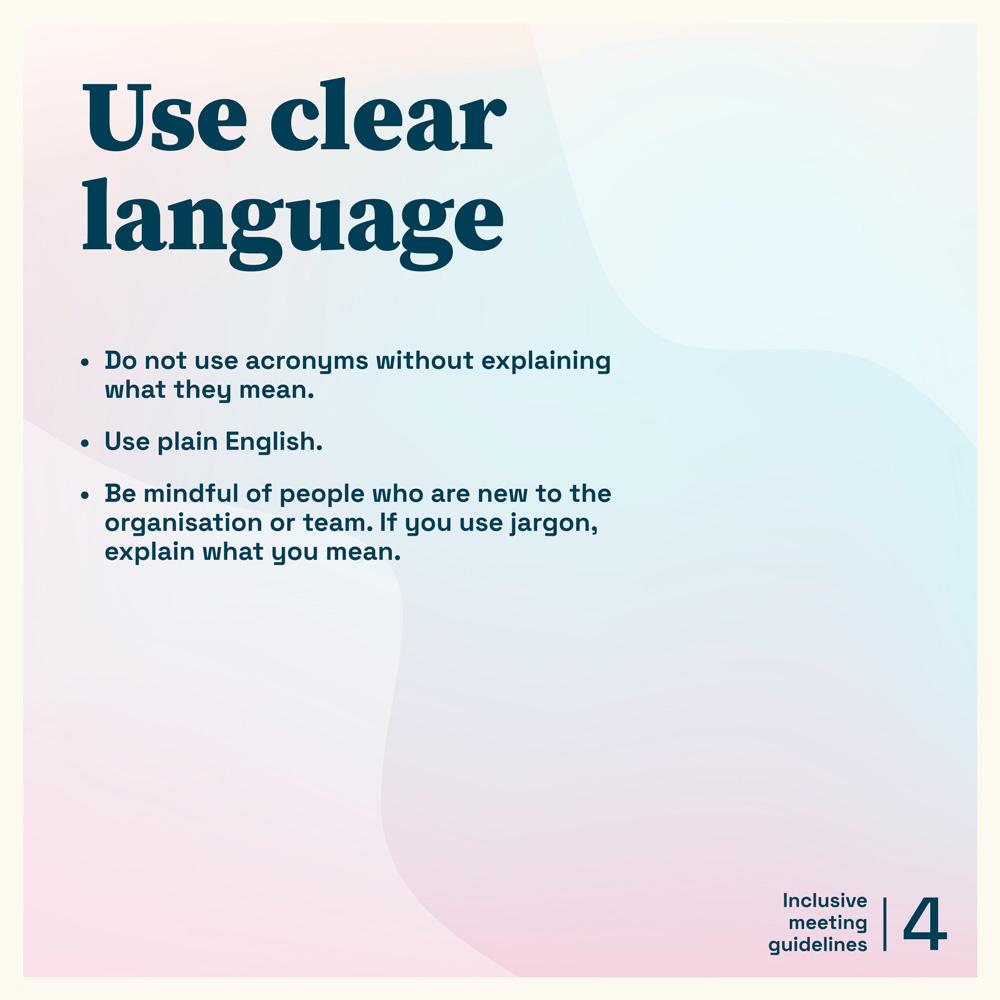 5. Respect people's time
Book only the amount of time you need with people, and allow people to leave if they've contributed all they need to.
Plan your meeting to allow people breaks between meetings, for example 5 or 15 minutes past the hour.
If the meeting is long, schedule in regular breaks.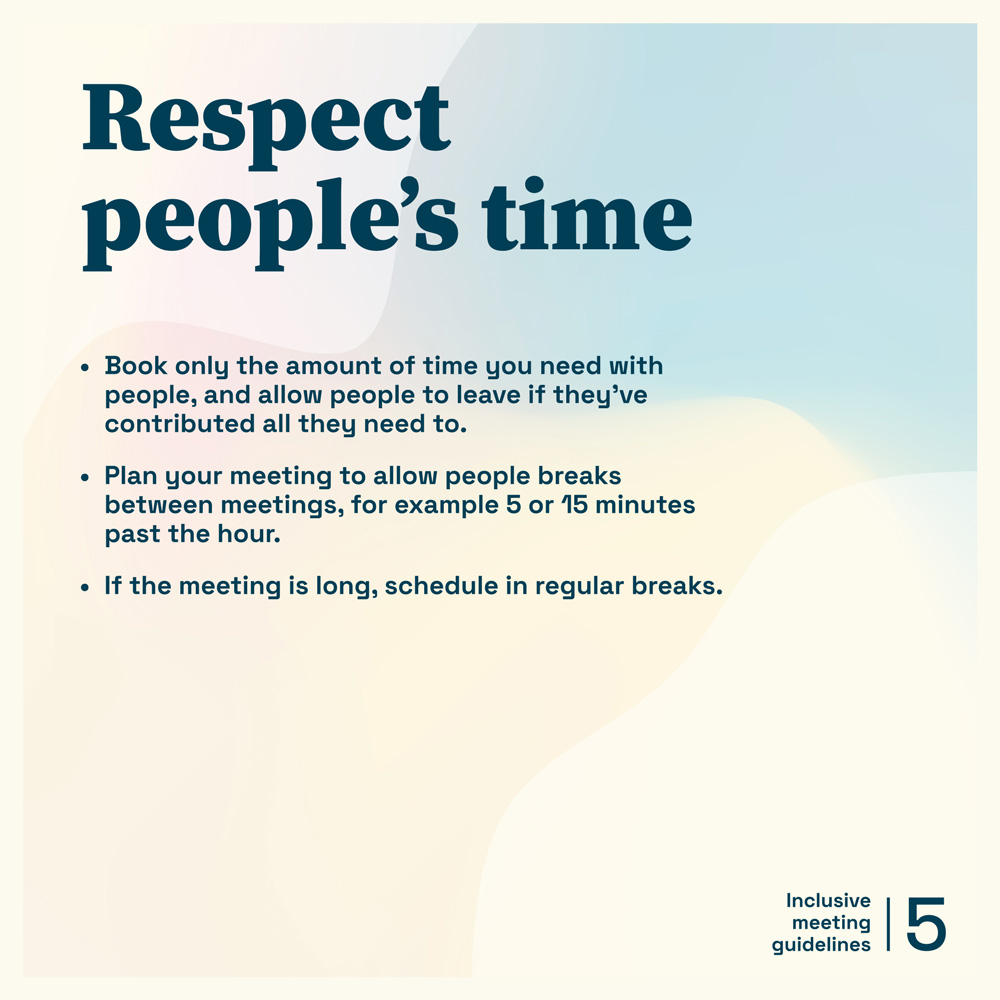 6. Value all contributions equally
Give everyone a chance to speak, do not allow one voice to dominate. If you're referencing what's been inputted, reference contributions from a range of people.
Consider your audience. Be prepared to adapt your approach or process to encourage contribution from more people.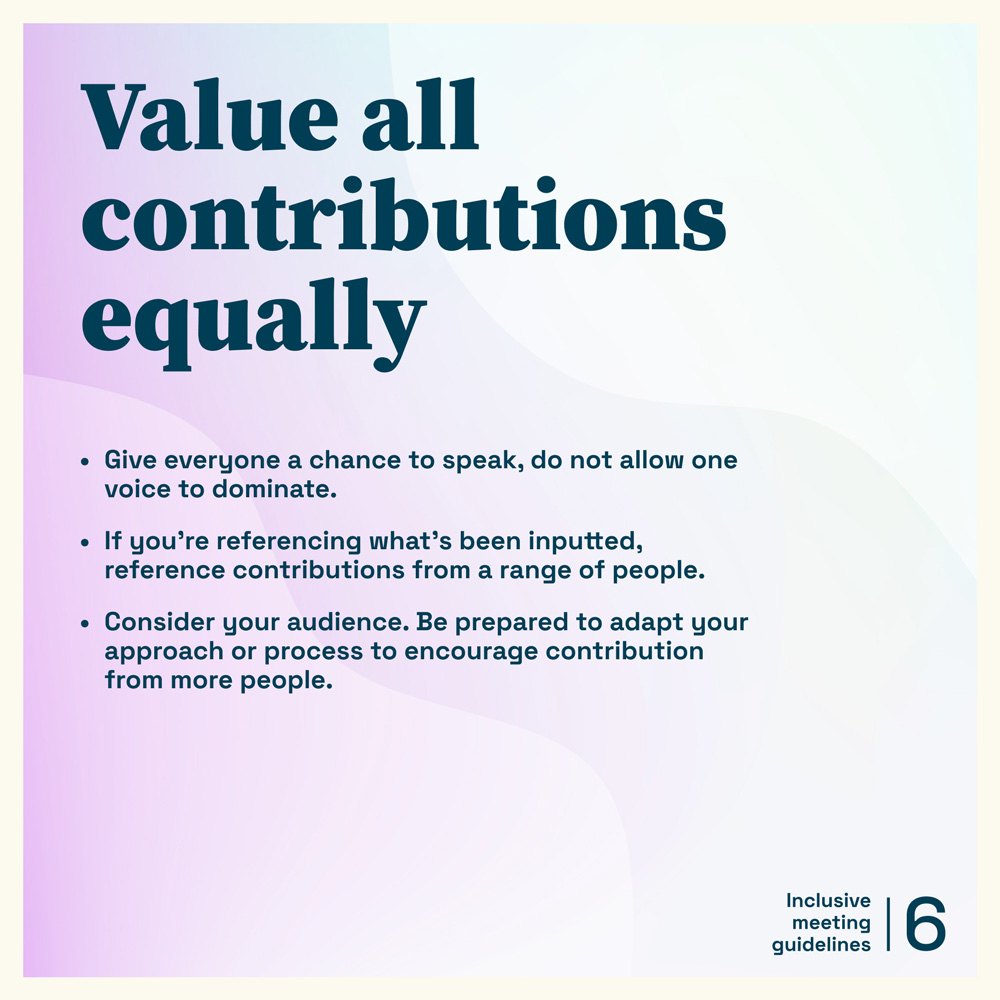 7. Encourage clarity, curiosity, and challenges
Explain how people can ask questions.
Encourage people to get clarity on things they do not understand.
Allow people to ask questions anonymously, for example by adding post-its to a collaboration board.