A Guide to Understanding Assistance Dogs
The old adage says a dog is man's best friend, however, for more than *7,000 disabled people across the UK they are a lot more than that – to them, they are lifesavers.
The infographic below is based on Assistance Dogs UK which is an organisation that works with eight assistance dogs charities to bring canine care to those who need it most.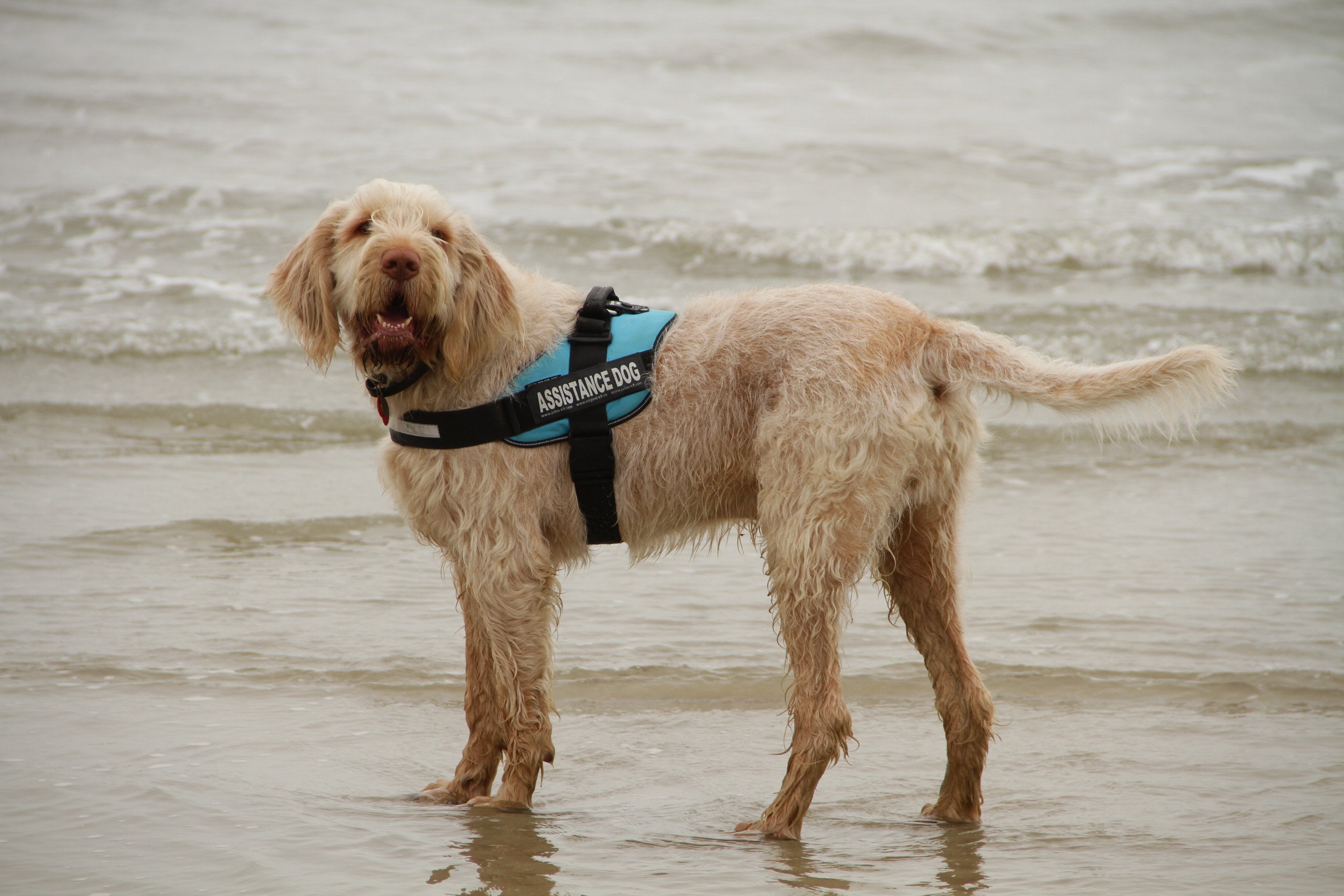 There are other charities outside of the ADUK group and many people have trained their own assistance dogs. Here is a picture of Ottie, an owner trained assistance dog in his assistance dog harness.
See how each incredible charity is using pooch power to change the lives of many, below.
For those seeking a text alternative version, click here for the web accessibility infographic.
A Guide to Understanding Assistance Dogs
More than 7,000 disabled UK residents* – each with a unique set of circumstances – rely on an assistance dog to help them go about their day-to-day life.
One of the key organisations orchestrating this work is Assistance Dogs UK: a coalition of eight charities who train dogs to bring independence and support to their partners.
Take a walk through our guide to learn how assistance dogs can transform the lives of others.
Anything is pawsable
Canine Partners has one goal: to change the lives of people with physical disabilities. They do this by pairing highly trained dogs with adults who have a range of disabilities and conditions, including multiple sclerosis and cerebral palsy.
These amazing dogs have a whole host of skills, including the ability to:
Open and close doors.
Load and unload a washing machine.
Press buttons and switches.
Did you know?
Canine Partners' dogs are trained to flush the toilet, help strip the bed and tidy their own toys away.
Dog A.I.D pairs qualified dog trainers with people who have a physical disability. In turn, the less abled are given the knowledge and skills necessary to train their canine to become a recognised assistance dog.
Dog A.I.D is unique in that it harnesses the bond which already exists between a dog and its owner.
Once trained, dogs can:
Open and shut doors.
Find mislaid objects.
Load and unload a washing machine.
Place objects where required.
Fetch help.
Did you know?
Dog A.I.D regularly give demonstrations at Crufts.
---
More than just a cute face
Dogs For Good not only support both less abled adults and children, but also train community dogs to work alongside teachers and therapists.
The charity specialises in supporting parents and carers of children with autism. By providing workshops, training and support, Dogs For Good are able to create a safer and more independent environment for children and families.
A fully-trained autism assistance dog can help change behaviour by:
Introducing routines.
Reducing bolting behaviour.
Interrupting repetitive behaviour.
Did you know?
An autism assistance dog can help improve children expand their verbal and nonverbal communication.
---
Here for you
While a dog's acute sense of smell ranks among their most impressive puppy powers, their heightened sense of hearing follows closely behind.
Hearing Dogs for Deaf People train dogs to alert the hard of hearing to sounds they would otherwise miss – the simple sounds that many take for granted. These include:
Alarm clocks.
Fire and smoke alarms.
Telephone alerts.
To shouting or calls from other people.
Did you know?
Hearing dogs have saved countless lives, including waking their owners while fire alarms sound at the dead of night.
---
Leading the way
The Guide Dogs for The Blind Association has been working since 1931 to create almost 34,000 life-changing guide dog partnerships. The charity's instantly recognisable dogs – known for wearing white and luminous yellow harnesses – are renowned for helping people with sight loss to live more independently.
The organisation teaches their dogs to:
Not to turn corners unless told to do so.
Stop at kerbs and wait for a command.
Judge height and width.
Deal with traffic.
Did you know?
You do not need to have lost your vision entirely to own a guide dog.
The Seeing Dogs Alliance is a family-run charity which has a history spanning nearly four decades.
The charity trains dogs to guide blind and partially sighted people, helping them to achieve greater personal mobility and independence. The dogs are trained by qualified Guide Dog Mobility Instructors, who also train and support their blind owners.
The puppies live with volunteer puppy rearers, who fully socialise them and teach basic obedience. The puppies are familiarised with public transport and busy areas.
Did you know?
The Seeing Dogs Alliance regularly seeks short-term homes for rearing puppies or working dogs.
---
Man's smartest friend
Medical Detection Dogs is an organisation utilising the astonishing power of the dog's nose. As canines can detect tiny odour concentrations – around one part per trillion – the charity is researching the potential for dogs to detect diseases.
The organisation's pioneering work could help to speed up the diagnosis process and impact on thousands of lives, potentially assisting the NHS with the early detection of cancer and other diseases.
Research areas include:
Prostate cancer
Breast cancer
Bowel cancer
Malaria
Parkinson's disease
Did you know?
Dogs can detect the equivalent of one teaspoon of sugar in two Olympic-size swimming pools.
Support Dogs is a charity which train canines to aid people with physical disabilities or illnesses.
Some of the charity's most impressive work is helping those who suffer with seizures. Seizure Alert Dogs are trained to provide a 100 per cent reliable warning up to 50 minutes prior to an oncoming seizure. This can help sufferers live more independently, safe in the knowledge that they will be alerted in advance of any seizure.
Did you know?
Many people believe dogs are more sensitive to body language than humans.
---
How to behave around assistance dogs
If you are an animal-lover, you would be forgiven for wanting to approach an assistance dog. However, no matter how irresistible, distracting any kind of service dog could put their owner in danger.
There are few dos and don'ts that you should adhere to if you see an assistance dog, these include:
Do speak to the handler
Should you need to approach an assistance dog, make sure to speak to the handler first. Speaking or touching may confuse the dog, as they are trained to focus on their task in hand.
Don't pet the dog
It may be tempting to pet or touch an assistance dog, but you should only do so after receiving permission from the dog's handler. Any irregular movements could affect the dog's attentiveness.
Don't offer food
Avoid offering food to an assistance dog. As well as distracting the dog from its duties, it could make him or her ill.
Don't allow other pets to interact
If you have a pet with you, do not let it approach the assistance dog without first consulting the handler. This could lead to an unwanted altercation between the animals.
Do ask before helping
If you think a handler needs help, ask before acting. Grabbing the assistance dog's lead could cause confusion.
*Data taken from www.assistancedogs.org.uk