The charity shop checklist: what can and can't you donate?
Donating unwanted clothes or household items to charity shops is an easy way to help out your local community. However, there are a few restrictions on what you can and can't donate. To help save you time on your next trip to the charity shop, we've put together a quick guide on what to put in the charity shop pile next time you're having a clear out.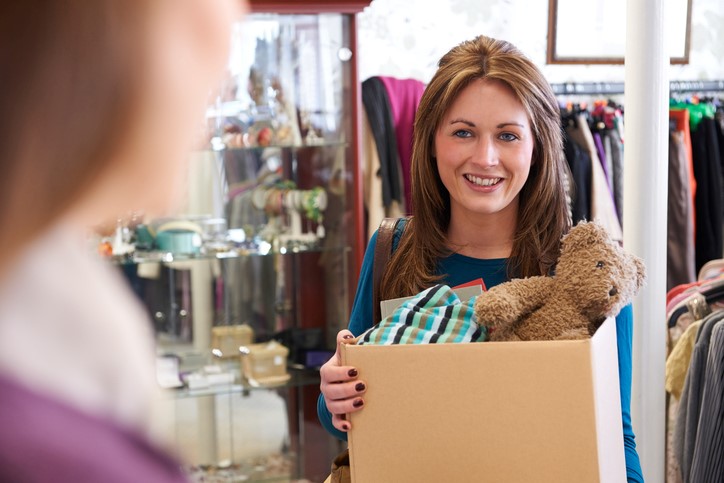 What can I donate?
Most charity shops are happy to take a range of clothing and household items, as long as they're clean and in a good condition. Items that are usually accepted in high street charity shops include:
Clothing

Shoes and bags

Accessories and jewellery

Books

CDs and DVDs (that aren't home recorded)

Homeware, such as ornaments, china, kitchenware and photo frames

Children's toys and games (with a CE label if it's a soft toy)
Some items, such as bicycles, sofas that have fire safety labels and mobile phones, may also be accepted depending on their condition. If your high street charity shop doesn't accept more unusual items which are in good condition and adhere to safety regulations, you may be able to find a specialist in your area which will accept them.
What can't I donate?
Often due to safety regulations, there are a number of items that charity shops can't accept. Although what charities are willing to take can depend on the individual shop, the items that are generally turned away are:
Kitchenware
Heating and cooking equipment that use gas or oil

Knives

Scissors

Refrigerators
Safety equipment
Safety helmets

Safety harnesses

Cycle helmets

Life jackets

Buoyancy aids
Children's items
Inflatable toys for water

Car seats

Prams

Pushchairs

Buggies

Cots

High chairs

Cot mattresses

Soft toys without the CE label
Soft furnishings
Used pillows and duvets (although pillow cases and mattress covers may be accepted)

Cushions

Cushion covers

Furniture covers without fire safety labels
Electrical items
Electric blankets

Power tools without instructions
Other
Weapons

Oil lamps

Prescription glasses

Items made from ivory

Petrol or diesel fuelled garden equipment

Personal items, such as shavers (unless unused and in a sealed box)
If you're still unsure about whether you can donate certain items, give your chosen charity shop a ring before you drop by. Some charity shops will even come and pick up larger items on your behalf, so it's worth checking their website before you deliver your donations.
Do you have any top tips for donating items to charity shops? Tell us your advice over on Facebook or Twitter.