Top Tips When Moving House With Pets
Picture the scene: after multiple house viewings and meetings with mortgage advisors, the keys to your new home are finally in the palm of your hand. After celebrating with a glass of bubbly, the next step is to pack up your stuff and move into your new abode.
Simple, right? Not necessarily.
Ask anyone who has moved house before and they will tell you how stressful it can be. In fact, a poll by The Telegraph found that as much as two-thirds of people thought moving house was even more stressful than a bad break-up or starting a new job.
And, while it can be stressful for those doing the moving, it can be equally unnerving for any pets who are involved. Just think about it: all of a sudden their safe space is heaving with heavy-footed removal men, and their toys, once dotted around the house, are packed up into boxes. To them, it can be a confusing time.
But don't fret. With help from the Blue Cross and our pet-friendly social community, we look at the best ways to relax pets during a house move.
Moving house with cats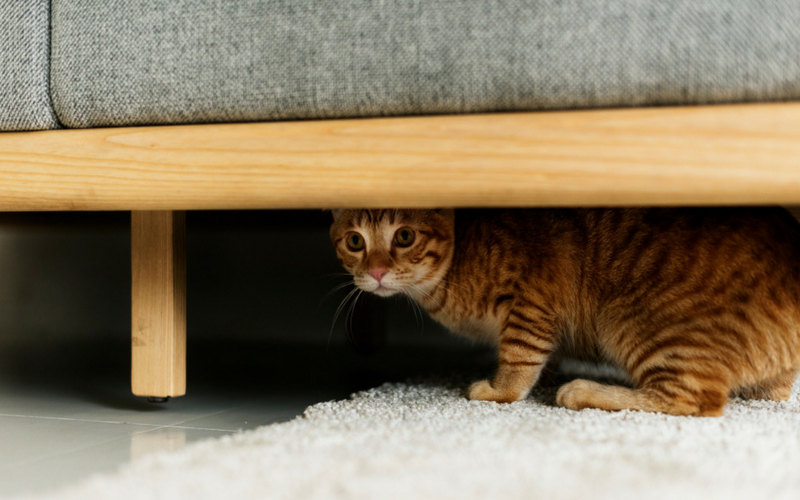 While cats may be naturally independent creatures, they are also sticklers for routine. Their days are comprised of regimented feeding times and familiar sights, smells and sounds. As such, any changes to their routine will naturally make them feel on edge. However, there are a few things you can do to facilitate a smooth transition for your cat.
Before the move
Calm your moggy down during a stressful move by moving them into a secured room. Add home comforts, such as toys and bedding, to put them at ease. Doing this will help keep them out of the way of any incoming removal people, as well as making them easy to find when it's time to move them out. However, if your cat is likely to feel frustrated in a locked room, you might want to book them in at a cattery for the day instead.
Can't decide how best to comfort your cat during moving day? Take a look at what our fabulous social community had to say:
"If possible, put cats in a familiar cattery while all the packing up and move out/moving in is happening. Once the rooms are sorted, make a "cat room" with all their stuff in, shutting them in sometimes so they're secure".
Kay Wright on Facebook
Clear one room so movers don't need to enter, put cats in there with "keep out" notice on the door. Keep them in for at least 3 weeks before letting them out for short periods with them, gradually lengthening the time they are outdoors. Ensure they're chipped with correct info.

— SNARL (@SNARLLondon) January 14, 2018
Settling them in
Upon entering their new house, cats will naturally want to hide away until they get their bearings. This is normal behaviour and isn't something for owners to worry about.
To make their introduction as comfortable as possible, unpack all of your belongings before they explore; this will let your cat get used to the new layout. Once they're accustomed to their new environment, try changing up their feeding time with small, regular meals; this should help to build their confidence. After a few weeks, open the door and let them get a feel for the outdoors. It shouldn't be too long before your cat plucks up the courage and takes their first steps into the unknown.
If you have moved just a few miles from your old home, your cat might naturally find their way back to their old space. If you're concerned about this eventuality, make sure they're fully comfortable in their indoor surroundings before letting them roam outdoors.
Here's how our social community keep their pets settled after a big move:
"Keep cats indoors 3 weeks upwards".
Nina Ramsden on Facebook
"Make sure your cat gets to know the area before letting it out. And revisit your old home if it goes missing. Also, let your old neighbours have your phone number, just in case".
Rosemary Rowell on Facebook
There's also a few old wives' tales surrounding moving cats into a new home. One of these is to rub butter on a cat's paws to help calm them during the move. According to the Blue Cross, this is a total myth. Although some cats may find licking their paws a welcome distraction, the truth is it can stress moggies out more. Plus, it will leave lots of greasy paw prints all over your new home – not ideal!
Moving house with dogs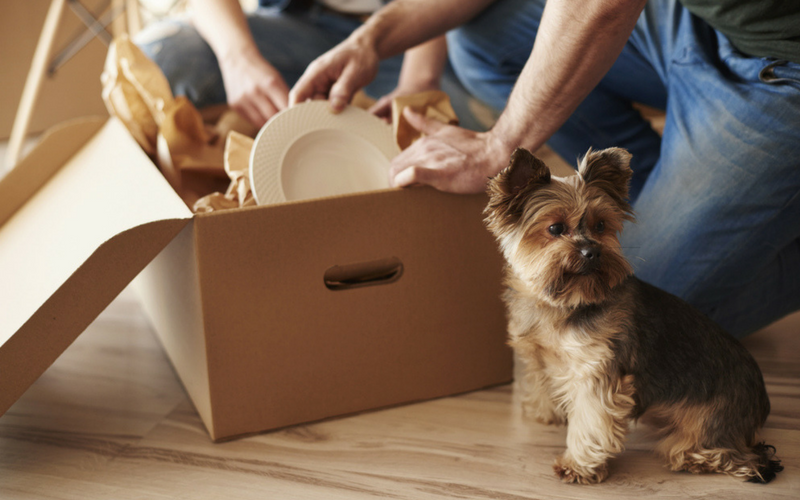 While dogs are usually better than cats at adapting to new surroundings, there are plenty of ways you can make their move much more enjoyable.
Before the move
During the packing phase, your dog is likely to get confused and nervous. To keep them calm during this time, you may want to arrange for your dog to visit a boarding kennel, or to stay with a friend or relative.
You can also make them feel at ease by packing bedding, toys, food and water bowls at the very last minute. This will tell them they're part of the move, too.
Before the move, you may also want to obtain an ADAPTIL (Dog Appeasing Pheromone) spray and/or collar, which will help to calm their nerves. You can also use an ADAPTIL plug-in in their room when they move in, or during the car journey. If they have a microchip and a collar, you will also need to think about updating their details.
Settling them in
Once they're in their new home, they will understandably feel cautious. Make them feel at ease by keeping their favourite toys and bedding around at all times. Another tip is to try and not wash their bedding for a few weeks, so they can associate their smells with their new space.
While it will take a few weeks for them to get used to their new home, there is no harm in letting them out to roam. However, it is best to double-check that there are no fencing issues before you let them off their lead.
Take a look at our Facebook followers' top tips for moving house with dogs:
Keep their normal routine, don't wash bedding/toys until settled in and get an adaptil/feliway diffuser

— Emma Leigh (@emmaleigh20101) January 14, 2018
"Take them on a tour of the house and surroundings and make sure they have their favourite things around them. Spread some catnip for cats, and leave dog treats around for the dogs to find".
Margaret White on Facebook
1. Pack in stages and try and keep packing boxes away from 'their' space. 2. Whilst moving out, get a friend/family member to watch the dog until you've moved in. 3. Adaption plug in and collar of signs of anxiety shown in new home.

— RLBridges (@rachlillywhite) January 17, 2018
Our top tips for moving with pets:
Take them either to a kennel/cattery or a friend/relative's house.
If your pet is staying with you, pack up their toys, bedding, etc., at the last minute.
Change the details on their micro-chip/collar before you move.
Unpack all your belongings before introducing them to their new home.
Avoid washing bedding for a few weeks after the move.
Only allow them outside once they've shown sufficient confidence indoors.
How did you keep your pets calm while moving home? Get in touch with us on Facebook and Twitter to share your methods!
For more information about moving home with your dog or cat, take a look at the Blue Cross website. You can even download a PDF which outlines everything owners can do to keep pets calm during their big move.