Co-op delivery and collection services
Choose how you'd like to shop with us including options for Click and Collect, Co-op delivery to your door, Deliveroo and home delivery after you've paid at the till. Take a look and see what suits you best.
Co-op Delivery
Do your food shopping from the comfort of your own home and we'll deliver it to your door in 2 hours or less. It means you don't have to leave the house to get what you need and we'll do all the picking and packing. Available in many areas.
Click and Collect
Too busy to do your shopping? Buy online then collect your favourites from the local store at your convenience – your order will be ready in less than 2 hours.
Just Eat
Get free delivery on all your Co-op groceries! From delicious ready meals to your household essentials, we've got all your favourites covered. Choose what you want, and we'll bring everything right to your doorstep.
Uber Eats
Get the Co-op items you love delivered to your door with Uber Eats. To get started, simply go to their website and find a Co-op near you. Before you know it, your shopping will have arrived.
Members earn 2p for every pound spent on Co-op branded products when shopping on Uber Eats, and we give the same to local communities. Simply add your membership number at checkout in the Uber Eats app, and you'll earn rewards on all future Co-op orders. Delivery is available from over 1,000 Co-op stores following its launch last year.
Amazon
If you're a Prime member, did you know you can get your shopping delivered same-day? We've teamed up with Amazon so that you can sit back and relax whilst we pick and pack your order – we'll even send delivery updates straight to your phone. Limited stores, increasing scale in 2022.
Shop and Deliver
You may be able to visit our stores but getting heavy bags home can be a challenge. Selected Co-op stores can solve your problem by doing all the heavy lifting for you. Pay at the till and we'll make sure your Co-op home delivery is on your doorstep soon afterwards.
Deliveroo
We've teamed up with Deliveroo who can bring your shopping to you in as little as 20 minutes. Find out how easy it is to arrange everything online or get shopping straight away.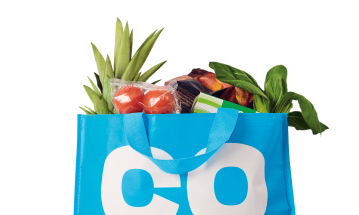 Other services at your Co-op store
It's not just about the groceries. By visiting your Co-op store you could do everything from picking up parcels to having a fresh cup of your favourite coffee. Take a look at the other services we offer and see what's available in your area.